Chelle Destafano illustrates her new home town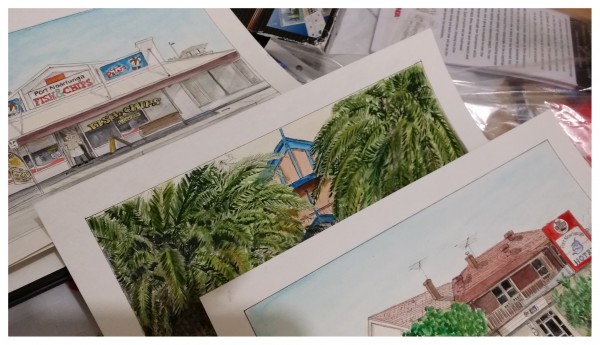 Artist Chelle Destafano, a local resident of Port Noarlunga for the last 14 years, captures the town's character in an exhibition of dazzling new work that opens at The Arts Centre, Port Noarlunga on 8 May 2014.
"I'm a visual artist working predominately in watercolour as well as in ink and wash with some pencil", explains Chelle.  "I love depicting both from imagination and photos, old buildings both abandoned and preserved types, antiques, pets, people and anything that inspires my mind at the time. My upcoming exhibition Port Noarlunga – My Home town depicts the explorations of the town; each shop, eatery, and jetty. My work examines their characters and the detail within them as the inside of each place holds a story of the past and present.
Since moving to Adelaide 15 years ago Chelle adopted Port Noarlunga as her new home saying, "I enjoy regular meals at the best cafe, and walks along the jetty. Port Noarlunga has been my home."
In addition to work in watercolour, ink and wash and pencil, Chelle works with a range of mediums, "I have worked and still work with acrylics and sometimes abstract, and my arts practice is very diverse.
I studied BA of Visual Arts and Applied Design between 2001 and 2006, graduating with major in painting and drawing. I love to illustrate for books as well as create my own art books and soon will be having my first art book published hopefully later this year or early 2015. My website where you can view the diverse range of my art is at www.chelledestefano.com"
Port Noarlunga – My Home is on at The Arts Centre, 22 Gawler Street, Port Noarlunga from 8 May to 4 June 2014. Check out further details at the Events page of the website.