Say something with Twitter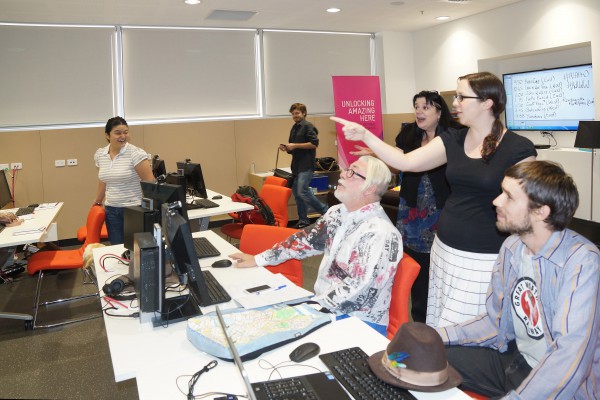 Guest Blogger: David Paul Jobling
Who knew that Access2Arts and one of the fastest growing social media platforms on the planet have so much in common?
Twitter's mission is to give everyone the power to create and share ideas and information instantly, without barriers.
Access2Arts is committed to inclusion and diversity, working with artists, audiences and organisations towards creating the conditions for the full participation of people with disability in the world of arts and culture (the only barriers Access2Arts will accept are safety barriers).
There are some very strong parallel values there and as if that's not enough both Twitter and Access2Arts love Katie Keys tweeting one #tinylittlepoem every day. And after I attended Katie's #140characters workshop series, presented by Access2Arts, now I'm also in love with her.
Working on site in Adelaide's ultra modern City Library in early-March of 2014, Katie met with a group of creative disabled people over a week in order to teach the fundamentals of creating and tweeting tiny little poems. A tweet has one basic form; it must be complete within 140 characters. This includes punctuation and spaces between words. There are many forms for poetry, including the 'short form poem' and the Haiku. It was fascinating to discuss as a group led by Katie the vast range of poetry and the extraordinary places where you can find poetry or poetic language.
We created group poems by each writing an original line, which was great fun and very insightful as to how we express ourselves as individuals. We worked on our own tiny little poems and listened to Katie's story which was very inspiring. Writing a tiny little poem every day for a period of years has meant Katie's amassed quite a volume of work.
We also delved into live-event-tweeting by attending Adelaide Writer's Week sessions where we all had a go at tweeting what was happening while it was happening. Anyone who watches ABC TV will have noticed tweets cross the screen of shows like "The Drum", "NX" or "Q and A" and there is often a 'guest tweeter' whom you can engage with via Twitter during programs like "Lateline" and "Q and A" so the idea is very mainstream, but tweeting poetry is something a little more creative than simply reporting on an event.
The best thing about the #140Character workshop (besides Katie Keys and our 'creative-enabler' Jude Aquilina) was the vast array of doors it opened in the mind. The workshop was valuable on many levels. It inspired and educated which also means it empowered and built the capacity of everyone attending in some way.
The discussions were broad and at times really amusing because we all know how insightful disabled people are; there were moments of hilarity along with the more subdued and circumspect moments we shared. There's nothing quite so nourishing as a group of creative people poking and prodding at the same thing to see what will happen is there? Tiny little poems rock!
Watch out for poems told in tiny little tweets broadcast into the twitter-verse in the coming months.
The #140charcters artist in residence program was funded by Arts SA and supported by the Adelaide City Council's Library Service and City Library.
David Jobling is a writer, actor, director and visual artist. He has been a part of the team that have produced the Spoke Word Festival and is an avid tweeter.