SONS and Mothers and POP Pictures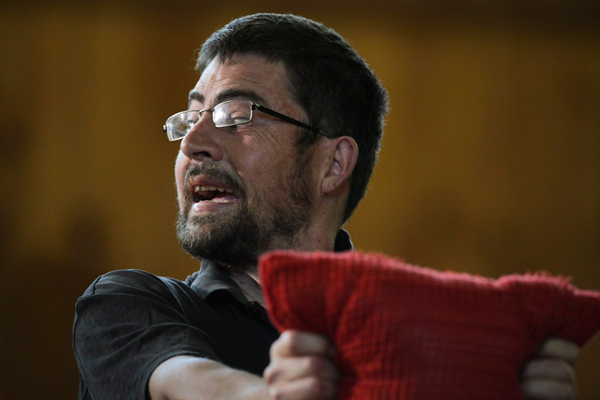 Duncan
One day after our Men's Ensemble workshop at No Strings Attached Theatre of Disability, Alirio Zavarce, our tutor, and Louise Pascale from POP pictures had a meeting with us and said 'How would you like to make a film?'

We had already started working on a piece about our mothers with Alirio, because his mum had died in Venezuela. So Chris Houghton and the film crew started coming along and filming us.

Alirio asked us to write things about our mothers and then these became our lines in the play, Sons and Mothers, which we did last year and are doing again in October 2013. Alirio wrote some of our words into a script.

Then they asked our mothers to come along and be filmed.
Rosemary
All the mothers who are still alive went along to the rehearsal place to be filmed. We were pretty nervous, because we aren't used to performing like our sons. Without any preparation, and with the cameras rolling, Alirio asked us unusual questions like 'When did you first meet your son?' We all gave different answers and they now appear in the play and the film. In the play the mothers on film appear at the back of the set. With the film, it's really strange watching and hearing yourself on a giant screen.
Duncan
Chris and Aaron came to my house and filmed me playing the Wii and having a cigarette outside, which you will see in the film. At the preview everyone laughed because I was hard to see in all the smoke. They also filmed my pet galah, Jasper, but he finished up on the cutting room floor, as they say. Chris came on the bus with me too; he had to get permission from the bus company. I don't think the other passengers even noticed he was filming.
Duncan and Rosemary
The filming was interesting because it meant we could both say things that we like about each other and things about the other one that annoy us. In the play people always laugh when Duncan lists the things about Rosemary that annoy him. We have seen the film once and we both think it's a great film, and everyone should go and see it on Sunday 20 October at 12 noon at the Regal Cinema, Kensington, then after that for three weeks at The Trak at Burnside.
Duncan Luke has been a member of No Strings Attached for almost 20 years. Since 2004, Duncan has been a core member of the Men's Ensemble, performing annually in workshop productions. In 2007, with Julian Crotti, he co-created the roles of the original Toms and performed in Tom the loneliest in in the critically acclaimed seasons in Adelaide and Melbourne (2008 and 2009). In 2010 Duncan was nominated for a Melbourne Green Room Award for his work in Tom the Loneliest. He performed in the award-winning production of Sons and Mothers at the 2012 Adelaide Fringe, and is once again in the 2013 repeat season at the Adelaide Festival Centre.
Duncan is also one of the men featured in POP Production's documentary film, SONS & mothers. In 2005, Duncan was an extra in Alex Frayne's feature film Modern Love.
Rosemary Luke has spent most of her working in life in schools and universities, but she did run away to the theatre for a few years, working at, and later siting on the board of, Unley Youth Theatre, during the time at which it became Urban Myth. She is lost in admiration for Duncan's capacities as a performer, but still wishes he would smoke fewer cigarettes.