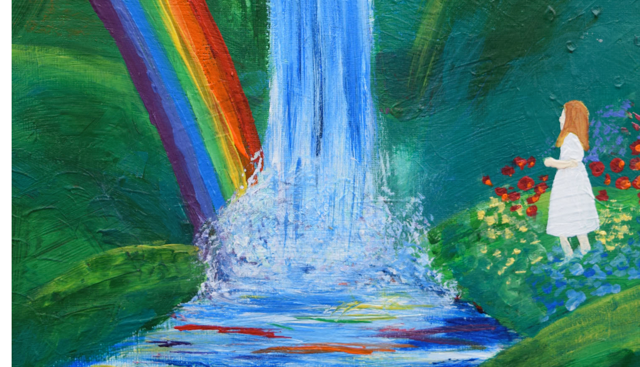 Guest Blogger: Kylie Harrison
Writer and poet Kylie Harrison credits supportive teachers and encouragement from her sister, Erin, for keeping her writing in the face of barriers like bullying and peoples reactions to her issues with mental health.
My project to write Pendulum began many years ago. I went to Flinders University and the Arts Tafe studying Creative Writing. I was unable to get a degree or a diploma as at that stage as I was constantly getting mentally unwell. I managed to gain the skills I needed to become a writer and was encouraged by lecturers to join in writing competitions, gaining distinctions for some of my poetry including 'The sea of Melancholy' sonnet which is now a part of Pendulum.
They weren't the only teachers in my life who had praised my writing. Most of my teachers in high school supported me and since I spent some time in hospital as a teenager, it was my hospital school teacher that realised my passion for writing and believed in my ability. My home group teacher and drama and English teachers also gave me motivation. Back then I wanted to be a journalist.
When I was at Hamilton Secondary College adult campus attempting to finish Year 12, I had a teacher that loved my speech on youth suicide and encouraged me to become a public speaker in high schools. Years on that is one of the things I am doing, as part of my job as a peer worker with Life Without Barriers. Many teachers inspire the best from their students and I have found some in my writing journey. Three of my teachers along the way have said the same thing 'Kylie sets very high standards for herself and always achieves them.' This was written in my school reports from my teachers in Year 4, Year 7, Year 11 and Year 12.
For a long time it was a struggle being mentally unwell as a young person and this totally delayed my schooling. I was always getting sick and not able to finish anything. It was a frustrating situation. But I came to realise I could get the skills without getting the grades. Now that I am getting my book published, I keep remembering my sister's advice. I was upset because I was unemployed and often getting sick. I related this to my sister as a young adult. But she said 'you are not unemployed Kylie, you are a writer and you just haven't been paid yet.'
My sister Erin knows what it is like to be a struggling artist as she is a ceramist and an artist. She painted the beautiful picture on Pendulum's front cover and promotional material. I think you will agree that she has done a fantastic job and sets the tone I wanted for my poetry book. She spent hours on it and liaising with me was able to capture the vision I had for Pendulum. We have always talked about writing cards together with her paintings and my poetry.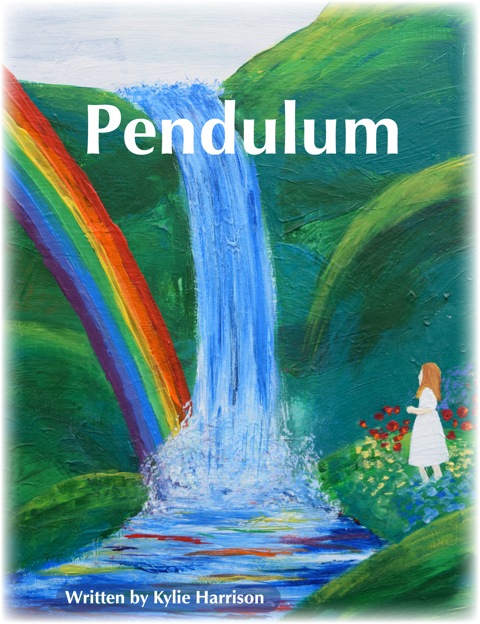 Image by Erin Harrald.
Growing up I was always writing poetry for friends and family for events like birthdays and special occasions. I would often write poetry for Mother's and Father's Day and began writing poetry since I was about 8 years old. I soon found out how much this meant to the special people in my life. It was about this time when I began sharing my poetry in the possum pages in the Sunday mail. It was a huge thrill to see my poetry in print. As I had a scientific mind back then, before I lost my memory, I was always writing poetry about space. I come from a family who have always been optimistic about my writing. I tried my hardest at everything I did and never disappointed myself, until life became sometimes a bit much trying to cope with the crippling mood swings and psychosis, which for a while felt like a full time job.
The teachers tried to help me to get through school. I loved the work but often got bullied. I realise now that the kids didn't know what was happening when I was dancing on the tables in English class in a manic state or why my mum had to come to the class to pick me up to go to my psychiatrist.
People have always said that I have lived an interesting life. It's good that I have lots to talk and write about. Since I come from the country I love to write in the country. There was many a writing session when writing Pendulum that I went and stayed at the Riverland with my sister. It was such a relaxing atmosphere and proved to be the most inspiring place for my writing.
Will I eventually be paid more to write? Only time will tell, but I am excited to be heading in the right direction. Art is such an interesting thing as some will like it and some possibly won't like it. But I write because I want to and if people like it, that is just an added bonus. Writing is a big part of my life and I don't mind sharing part of my world with the world. Why should you read Pendulum? Well……I always try to focus on what I can do and not what I can't, and reading Pendulum is something you can do.
Kylie Harrison can describe herself as a Community Peer Worker, writer, film maker, performer and comedian, now can add the title 'published poet' to her well-feathered cap.
Kylie received funding from Arts SA's Richard Llewellyn Art and Disability program in the development of her book of poems. Pendulum is been published by Ginninderra Press and is available to be purchased at the launch. To find out more about the launch, check out details on the EVENTS page.