#‎hearingaidsarethenewblack‬
Guest Blogger: Sophie Li
The Deaf and hard of hearing communities, along with their supporters, were recently outraged by an advertisement by a Victorian company for running an ad that called hearing aids 'ugly' and pictured a woman with a prawn on her ear.
Sophie Li, a deaf woman from Victoria, reflects by penning this letter to her younger self.
Dear Sophie,
You're sixteen. You're in high school, listening to gossip is like watching a tennis match. You're beating yourself up because you missed the punch line of a joke your friend told.

You're still hiding your cochlear implants. You're still apologising to people that you're deaf. You accept that you're alone in this world.

You won't accept your deafness until you're twenty-three. Surprise! It will only take you a year to learn Auslan and discover just how truly wonderful it is to be part of two beautiful and diverse worlds: deaf and hearing.

One day, you will work for deaf youth. One day, you will fall in love with a man who is profoundly and proudly deaf: he will open the door to the Deaf community – a world where you finally feel you belong. You will also work where you are comfortable to switch between answering telephone calls and via the National Relay Service. One day you will realise you can have the best life: living in both worlds at any time you want.

It is when you are twenty-five that you stand up for yourself and the deaf community you belong to. You see an advertisement on a tram in Melbourne, "Hearing Aids are UGLY" – you are in shock and are saddened that this is still the stigma in Australia. You decide to help support the counter campaign, featuring four people with hearing aids and cochlear implants and a slogan, "Are We UGLY?" You decide to speak out on Channel 7 news. Sophie, you will be in disbelief: 35,000 views, 600 shares, deaf, hard of hearing and hearing people across the world are standing up for the people of this community.

I'm so proud of you, Sophie. Stay strong. Happiness is here. Be deaf and proud.

Lots of love,

Sophie
Here is the original advertisement from Victorian Hearing.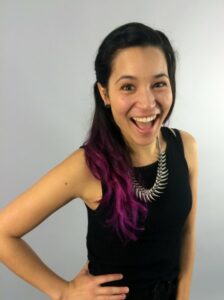 Sophie Li is a dance and yoga enthusiast who identifies herself as a deaf person. She currently wears 2 cochlear implants and can speak well and sign in Auslan fluently.