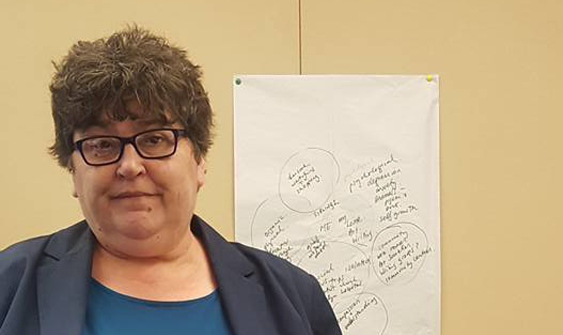 Artist Statement
Practising art and creative writing are necessary tools for maintaining good health. My creative work has distracted me from problematic mental health issues and has helped me to have a better quality of life. My art's practice creates greater self-awareness and empowers me to challenge and manage mental distress.
---
Biography
Jean Winter is an award-winning artist and writer who identifies as living with mental distress. Her experience in creating hand-painted silk art: scarves and wall hangings has made her a leading exponent of silk painting. She has exhibited all over the state of South Australia, nationally, and overseas. Her works hang in galleries, businesses and homes.
Jean studied creative writing at TAFE and visual arts at Marden Senior College. She has regular solo exhibitions of her paintings. She was awarded an Arts SA – Richard Llewellyn Arts grant and Disability Trust Fund grant to write a novel. In 2016 she published Mindshadows with Ginninderra Press.  Jean's awards include the 2017 and 2016 Telescope Writing Award,  2016 Mindshare Creative Writing Awards and 2011 Royal South Australian Society of Arts – New Members' Exhibition Merit Award. She is currently working on her third novel.