Previous Project
SND CLSH
Applications Now Closed
Access2Arts latest project SND CLSH is all about assistive music technology and visual arts.
SND CLSH will explore the fusion of contemporary art and experimental audio cultures leading to the creation of an electrifying performance and installation outcome.
Join multi-award winning producer, composer & performer of electronic music Tyson Hopprich AKA DJ Tr!p and visual, cross- disciplinary artist Thom Buchanan to explore the connections between sound, noise, image, and video.
If you are into music, visual arts or performance and you are up for experimentation, entering the unknown, new possibilities and playfulness with sound and image then SND CLSH is for you.
Venue
The Minors Works Building
22 Stamford Ct, Adelaide SA 5000
Limited places available.
Access2Arts invite artists to get their Daft Punk on!
Applications Now Closed.
Previous Project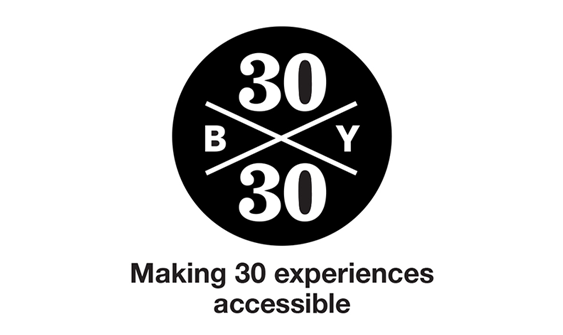 30×30
30 x 30 is an exciting new project, which aims to provide Deaf and disabled people with the opportunity to access new events, activities or experiences. By working with the organisations that provide the activity to make them accessible.
It's always fun to do something new, but too often you can't experience things the same way as other people do because there is no access!
Have you ever gone on a tactile tour at the Botanic Gardens? Fancy an Auslan tour of the Donald Bradman Collection? What about a football game with audio description? A relaxed theatre performance, or going to the opera! 30 X 30 will have something for everyone!
It's free and accessible. Deaf and disabled people can bring friends, lovers and family to the experience.
Are you a Deaf or disabled person that wants to be involved?
Are you an organisation that wants to be involved?
Curious to try something new?
Discover arts, culture, recreation, leisure and sport and other unique experiences through 30 X 30.
Find out more and register now www.30X30.com.au
Previous Project
Unfixed
Access2Arts partnered with the Australian Network for Art & Technology (ANAT), Unlimited (UK) and Watershed (UK), in Unfixed, a research residency investigating the determination of bodies as ' disabled' or ' abled'.
Ten Australian and UK Deaf and disabled artists selected to participate in Unfixed.
A not-uncommon experience for those living with impairment is compensation – when limitation in one area can lead to increased ability in another. As well, increasing numbers of disabled people are using technology that, rather than seeking to ' fix' their impairment, provides for an alternative way of experiencing the world altogether. This led the project partners to ask, ' if disabled people are able to access ways of being in the world that the ' able-bodied' are not, who exactly is disabled?'
Ms Jo Verrent, Senior Producer at Unlimited UK said, "it was so exciting to be working with two such pivotal organisations in Australia; they may be on the other side of the world, but we' re each working towards the same goal". Ms Vicki Sowry, Director of ANAT elaborated, "the intention of Unfixed is to achieve a real shift in thinking by focusing on disabled artists' acuity for experimentation and innovation in their creativepractice." Ms Gaelle Mellis, Creative Director of Access2Arts said the residency "is a unique program and it' s so exciting that a non-disability-focused arts organisation such as ANAT recognises the contribution and innovation disabled artists bring to the arts."
The selected artists represent diversity of artforms and lived experience, with half resident in Australia and the other half in the UK.
AUS
Trish Adams, who creates experiential, interactive installations in collaboration with scientists + researchers.
Sarah Houbolt, a circus and physical theatre performer who specialises in aerials, acrobatics and hula hoops.
Michele Saint-Yves, a poet and playwright who explores and evokes the lived experience of ' otherness'.
Daniel Savage, whose digital and installation works investigate the influence and effect of perception.
John Willanksi, a digital artist, filmmaker, puppeteer and creator of a bespoke doodle-based visual language.
UK
Jane Gauntlett, whose interactive live-art works explore ideas of empathy, neurology and accessibility.
Catherine Long, a dancer who interrogates disability and illness discourses, and the questions these raise.
Aiden Moesby, who creates responsive artistic interventions to encourage personal + communal dialogue.
Sue Williams, an illustrator and writer especially interested in notions of perception and perspective.
Caglar Kimyoncu, a digital and video artist as well as curator and arts consultant.
The Unfixed Residency was thrilling, confronting, and ultimately a great success.
In 2016, the Australian artists will travel to the UK for the next stage of the project undertaking a residency at Watershed in Bristol UK.
Stay tuned!
Previous Project
Locative Literature
Artist-in residence artist, poet and writer, Matt Blackwood introduced artists to writing responses about a specific locations and secreting these writings in the location.
The writing can be fact or fiction (Matt describes it as faction) but when discovered by members of the public it begins them thinking about the place they are in. #stickynotes
Previous Project
Sandy Jeffs poetry workshops
A partnership with Mindshare.
Award winning Poet Sandy Jeffs, who has lived with schizophrenia and all its moods for over thirty years delivered poetry workshops for poets with a lived experience of mental illness.
Previous Project
Unfixed Dialogues
Running in parallel to the Unfixed residency, a group of Adelaide-based artists were trained and mentored to develop interviewing skills under the guidance of arts journalist, critic and researcher Jane Howard. SA artists then conducted a series of one- on-one interviews with the 10 Unfixed residency artists.
Previous Project
2015 Mindshare Awards
A partnership with Mindshare.
Winners were announced at the 2015 Festival of Now.
Previous Project
#140Characters
Artist-in residence artist Katie Keys (@tinylittlepoems) worked with artists to explore creative uses of twitter using140 characters or less. #Short-form Poetry #Creative Twitter #Live Tweeting #Social Media for Writers #micro blogging #micro-fiction #twitter poetry #memes
Previous Project
Armature
noun – a structure used beneath something else for support
Armature was an active arts project that deliberately blurred the boundary between 'participatory arts practice'and 'arts learning'.
Artists: Sophia Borick, Joanne Chua, Mandy Flynn, Michael Hammerstein, Mel Kelly, James Kurtze, Ad'm Martin, Roz Sommariva and Leon Woods
Trainers Sasha Grbich and Lara Torr Project Coordinator Kirsty Martinsen
What the artists said…
'transformed my understanding of art'
'The Armature project has inspired a fresh new direction on my creative journey and a much broader understanding of what it means to be an emerging artist.'
'I found this project to be extremely valuable in preparing myself as an independent artist'
Previous Project
Armature#2
Participating in Inside Out, the People's Art project, SA Deaf and disabled artists created 'Artists Facing Barriers' as part of the global art project.
The paste-up portraiture exhibition was held during South Australian Living Artists Week.
Previous Project
Armature Live
Investigating live arts practice.
Previous Project
Shots in the Dark
A photography workshops for blind and vision impaired artists.
Artists: Joanne Chau, James Kurtze, Kyra Kimpton, Roz Sommervira, Amanda Flynn, Franca Lombardi, Lawrence Leon Woods and Catherine McMillan.Workshop facilitators: Andrew Follows (VIC) and Sam Oster.
Workshop facilitators: Andrew Follows (VIC) and Sam Oster.
Previous Project
Rarely seen
Rarely Seen is an exhibition. Blind and vision impaired photographers used macro photography to create works of urban abstraction. Subject were geographically specific with GPS coordinates. Concept Sam Oster and Gaelle Mellis
Artists: Joanne Chau, James Kurtze, Kyra Kimpton, Roz Sommervira, Mandy Flynn, Franca Lombardi, Lawrence Leon Woods and Catherine McMillan.