Here is a portfolio of some of our previous projects.
Access2Arts run arts initiative programs that are designed to empower though expression. You can participate!
Previous Project
Beats Workshops
Are you a learning disabled person?
Want to be part of our exciting Beats project?
Beats is steered by learning disabled people. You will beatbox, dj, create digital artwork, plan and present your own club night and more!
It is all about learning disabled people getting creative, connecting with the world through digital tech and contemporary popular culture.
For ages 15+
Beats Crew committee: Benjamin Paior-Smith, James Kurtze, Josh Campton, Locan Hopper, Jianna Georgiou, Michael Hodyl and James Bull with buddies Gaelle Mellis and Amy Milhinch.
Check out what the Beats Crew have been doing. We dare you to watch this video.
Venue: City Library, Rundle Mall, Adelaide SA 5000 (unless stated otherwise) See image of map below.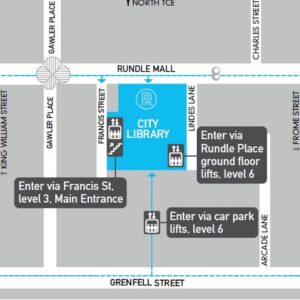 12:30pm – 2:30pm weekly. All workshops 2 hours (unless stated otherwise)
Upcoming workshops
21 April         Beatboxing with MC ME
28 April        Beatboxing with MC ME
Beatboxing Workshops will be held at Access2Arts, 147 Pirie Street, Adelaide
Check back here for updated workshop schedule.
It is free and the Beats Crew would love you to attend..
What are you waiting for?  Apply now! 
Beats has been supported through the generous funding of Adelaide City Council.

SaveSave
Previous Project
SNDCLSH – a residency
Access2Arts is calling for Deaf and disabled musicians, sound artists and noise makers to be part of two workshops with Sydney-based musician, arts worker, and all-round superstar, Liz Martin.
REGISTRATION CLOSE on Wednesday 11 June 2018.

Register now not to miss out!
Liz comes to Adelaide in July to work with disabled artists to demonstrate the opportunities offered by Assistive Music Technology as part of 'SNDCLSH: a residency'.
Assistive Music Technology?
Assistive Music Technology describes hardware, software, new technology and new approaches to sound and music making.
Working with Liz, you will uncover new ways to develop your music practice. You will start making sound and music in your own way using a range of diverse accessible instruments.
Delivered over two Sundays (15 July 2018 and 22 July 2018, 11am to 2pm) you will be introduced to a range of assistive music technologies and instruments to create sounds that are uniquely your own.
Day One
Sunday 15 July from 11:00am to 2:00pm
Location: The Breakout @ The Mill Adelaide, 154 Angas Street, ADELAIDE
Day Two
Sunday 22 July from 11:00am to 2:00pm
Location: The Breakout @ The Mill Adelaide, 154 Angas Street, ADELAIDE
To get the most out of 'SNDCLSH – a residency' we encourage you to come to both workshops, however if that isn't possible please register to come on the day of your choice.
'SND CLSH – a residency' is about experimentation and encouragement, risk, failure, entering the unknown, being happy to be confused by technology, investigation, seeking new possibilities, support, understanding, and playfulness with sound.
REGISTER to be part of the fun.
Access2Arts is truly excited to offer a residency that will see artists to get their Daft Punk on!
Want to find out more? Listen to a recent interview with residency artist, Liz Martin, and Peter Greco in 5RPH Vision Australia Radio.

Listen:

https://access2arts.org.au/wp-content/uploads/2018/07/180630_PODCAST_Leisure_Link_Liz-Martin-Interview.mp3

DOWNLOAD transcription (docx, 18 kb)
SNDCLSH, a residency is supported by funding received from Arts South Australia.

Previous Project
Writing Me
'One of the more well-known slogans of the disability rights movement is "Nothing About Us Without Us" … there are very few of 'US' in the Australian media, literature and writing sector.' Gaele Sobott
Access2Arts is seeking expressions of interest from South Australian Disabled writers for our Writing Me professional development program.
Combining a mixture of online and face-to-face engagement, disabled writer, Gaele Sobott, will work with five selected writers over a six-month period from November 2017 – March 2018.
About Gaele Sobott
The Opportunity
Applications now closed
Writing Me has been made possible through funding and the generous support of Arts South Australia.

Project Supporters



SaveSave
SaveSave
SaveSave
SaveSave
SaveSave
SaveSave
SaveSave
SaveSave
Previous Project
Jo Bannon : Performance and Penetration : Residency
A two-week residency with Jo Bannon, UK.
As part of Access2Arts commitment to exploring the inter-relationships between arts practice and disability, we invited Jo Bannon, to run a two-week residency. 2 October – 13 October, 2017.
This disability-led residency will create opportunity for a dynamic exchange and the examination ideas from new perspectives.
While in South Australia, Jo was keynote speaker at the Australian Theatre Forum.
About Jo Bannon
Jo Bannon is a UK based artist who makes live art, performance and installation. She has presented work in the UK and Europe and she is an In Between Time associate artist and founder member of Residence. She also works as a dramaturg and as a producer of performance and live art.
Jo's work is concerned with human exchange and encounter and explores how our physical bodies experience the world around us and how this sensory experience can or cannot be conveyed.
"The wonderful Bristol artist Jo Bannon"- Lyn Gardner, The Guardian
The Opportunity
Jo Bannon's residency examined desire, identity and penetration by unpicking the ways we look, hear and sense our immediate environment in order to rethink or make unfamiliar these intrinsic human behaviours.
Our partner Arts Access Australia (AAA), assisted an additional two artists based interstate to take part in the residency.
Jo Bannon's residency has been made possible through the generous support of Arts South Australia.

Project partner:

Jo Bannon Image credit: Manuel Vason and Jo Bannon
SaveSave
SaveSave
SaveSave
SaveSave
SaveSave
SaveSave
Previous Project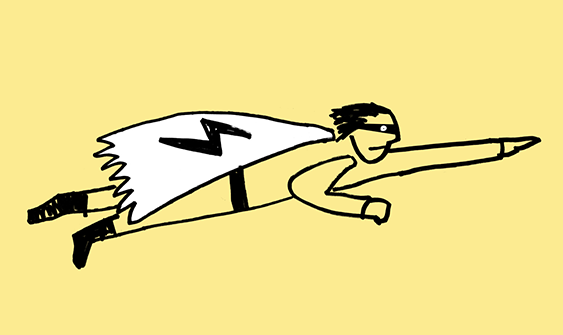 Reasonable and Necessary
Reasonable and Necessary was designed as a participatory arts project to provide people with disability that are eligible for the NDIS the encouragement they need to confidently undertake NDIS planning Step 1
'Think about your needs and goals.'
Through participating, Australians with disability contributed online, sharing what they considered'reasonable and necessary' in their lives. Using their stories and imaginations to see a future that does not yet exist.
The project outcome was an installation of responses printed onto post-it notes. Audiences were asked to contribute to the installation itself.
Due to the success of the project, we have kept the Reasonable and Necessary website live. All participants shared the ownership of this project.
We invite you to look online now http://reasonableandnecessary.org
'You see things; and say, Why? But I dream things that never were; and I say, 'Why not?' George Bernard Shaw
Previous Project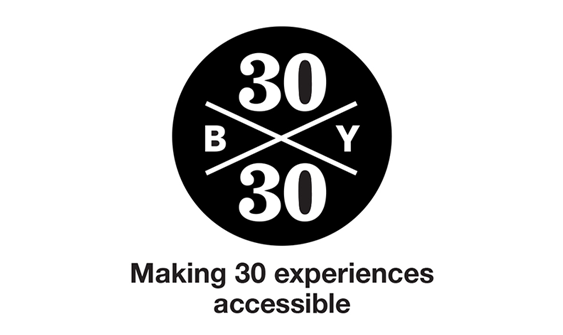 30×30
Curious to try something new?
Funded by the NDIS, 30 x 30 was an exciting  project that aimed to provide Deaf and disabled people with the opportunity to access new events, activities or experiences. By working with the organisations that provide the activity to make them accessible.
It was free and accessible. Deaf and disabled people brought friends, lovers and family to discover arts, culture, recreation, leisure and sport and other unique experiences through the 30 X 30 experience.
32 Events,  8 Leisure events, 7 Arts events, 7 Recreational events, 4 Sports events, 6 Cultural events, 1 website developed, 30 Top Tips developed, Over 500 attendances, Ages 3 to really old, Metropolitan and Regional
Previous Project
SND CLSH
SND CLSH was all about assistive music technology and visual arts.
SND CLSH  explored the fusion of contemporary art and experimental audio cultures with multi-award winning producer, composer & performer of electronic music Tyson Hopprich AKA DJ Tr!p and visual, cross- disciplinary artist Thom Buchanan.
Exploring the connections between sound, noise, image, and video. Access2Arts invited artists to get their Daft Punk on!
Previous Project
Unfixed
Access2Arts partnered with the Australian Network for Art & Technology (ANAT), Unlimited (UK) and Watershed (UK), in Unfixed, a research residency investigating the determination of bodies as ' disabled' or ' abled'.
Ten Australian and UK Deaf and disabled artists selected to participate in Unfixed.
Project partners to asked, ' if disabled people are able to access ways of being in the world that the ' able-bodied' are not, who exactly is disabled?'
Ms Jo Verrent, Senior Producer at Unlimited UK said, "it was so exciting to be working with two such pivotal organisations in Australia; they may be on the other side of the world, but we' re each working towards the same goal". Ms Vicki Sowry, Director of ANAT elaborated, "the intention of Unfixed is to achieve a real shift in thinking by focusing on disabled artists' acuity for experimentation and innovation in their creativepractice." Ms Gaelle Mellis, Creative Director of Access2Arts said the residency "is a unique program and it' s so exciting that a non-disability-focused arts organisation such as ANAT recognises the contribution and innovation disabled artists bring to the arts."
The selected artists represent diversity of artforms and lived experience, with half resident in Australia and the other half in the UK.
AUS
Trish Adams, who creates experiential, interactive installations in collaboration with scientists + researchers.
Sarah Houbolt, a circus and physical theatre performer who specialises in aerials, acrobatics and hula hoops.
Michele Saint-Yves, a poet and playwright who explores and evokes the lived experience of ' otherness'.
Daniel Savage, whose digital and installation works investigate the influence and effect of perception.
John Willanksi, a digital artist, filmmaker, puppeteer and creator of a bespoke doodle-based visual language.
UK
Jane Gauntlett, whose interactive live-art works explore ideas of empathy, neurology and accessibility.
Catherine Long, a dancer who interrogates disability and illness discourses, and the questions these raise.
Aiden Moesby, who creates responsive artistic interventions to encourage personal + communal dialogue.
Sue Williams, an illustrator and writer especially interested in notions of perception and perspective.
Caglar Kimyoncu, a digital and video artist as well as curator and arts consultant.
The Unfixed Residency was thrilling, confronting, and ultimately a great success.
In 2016, the Australian artists traveled to the UK for the next stage of the project undertaking a residency at Watershed in Bristol UK.
Previous Project
Armature
noun – a structure used beneath something else for support
Armature was an active arts project that deliberately blurred the boundary between 'participatory arts practice'and 'arts learning'.
Artists: Sophia Borick, Joanne Chua, Mandy Flynn, Michael Hammerstein, Mel Kelly, James Kurtze, Ad'm Martin, Roz Sommariva and Leon Woods
Trainers Sasha Grbich and Lara Torr Project Coordinator Kirsty Martinsen
What the artists said…
'transformed my understanding of art'
'The Armature project has inspired a fresh new direction on my creative journey and a much broader understanding of what it means to be an emerging artist.'
'I found this project to be extremely valuable in preparing myself as an independent artist'
Previous Project
Locative Literature
Artist-in residence artist, poet and writer, Matt Blackwood introduced artists to writing responses about a specific locations and secreting these writings in the location.
The writing can be fact or fiction (Matt describes it as faction) but when discovered by members of the public it begins them thinking about the place they are in. #stickynotes
Previous Project
#140Characters
Artist-in residence artist Katie Keys (@tinylittlepoems) worked with artists to explore creative uses of twitter using140 characters or less. #Short-form Poetry #Creative Twitter #Live Tweeting #Social Media for Writers #micro blogging #micro-fiction #twitter poetry #memes
Previous Project
Armature#2
Participating in Inside Out, the People's Art project, SA Deaf and disabled artists created 'Artists Facing Barriers' as part of the global art project.
The paste-up portraiture exhibition was held during South Australian Living Artists Week.
Previous Project
Armature Live
Investigating live arts practice.
Previous Project
Unfixed Dialogues
Running in parallel to the Unfixed residency, a group of Adelaide-based artists were trained and mentored to develop interviewing skills under the guidance of arts journalist, critic and researcher Jane Howard. SA artists then conducted a series of one- on-one interviews with the 10 Unfixed residency artists.
Previous Project
Rarely seen
Rarely Seen is an exhibition. Blind and vision impaired photographers used macro photography to create works of urban abstraction. Subject were geographically specific with GPS coordinates. Concept Sam Oster and Gaelle Mellis
Artists: Joanne Chau, James Kurtze, Kyra Kimpton, Roz Sommervira, Mandy Flynn, Franca Lombardi, Lawrence Leon Woods and Catherine McMillan.
Previous Project
Shots in the Dark
A photography workshops for blind and vision impaired artists.
Artists: Joanne Chau, James Kurtze, Kyra Kimpton, Roz Sommervira, Amanda Flynn, Franca Lombardi, Lawrence Leon Woods and Catherine McMillan.Workshop facilitators: Andrew Follows (VIC) and Sam Oster.
Workshop facilitators: Andrew Follows (VIC) and Sam Oster.
Previous Project
Sandy Jeffs poetry workshops
A partnership with Mindshare.
Award winning Poet Sandy Jeffs, who has lived with schizophrenia and all its moods for over thirty years delivered poetry workshops for poets with a lived experience of mental illness.
Previous Project
2015 Mindshare Awards
A partnership with Mindshare.
Winners were announced at the 2015 Festival of Now.