An Artists International Development

Contemporary dancer, martial arts practitioner and performer Matt Shilcock welcomes international dancer and choreographer  Vangelis Legakis to Adelaide to work on Matt's dance development as part of his Australia Council funded project.
Matt met Vangelis, a graduate of the Laban Center (London, UK) and holding a BA in Dance theatre and a MA in Choreography, while taking part in the 2nd International Interdisciplinary NO BORDERS Project in Xiamen, China during December 2013.
"I recognised many aspects of Vangelis' practices that hugely benefit my own choreographic practises and approach," said Matt. "Within his work and educational workshops he incorporates principles and theories from visual arts, architecture, philosophy, psycholinguistics and neuroscience through which he has originated novel ways to approach dance practice and choreography as a human activity"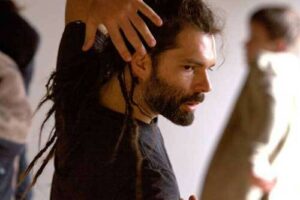 The focus of Matt's Australia Council funded project will be working with Matt to research the application of contemporary dance techniques to inform the development of Matt's own choreographic scoring system, Osteogenuine.
Matt is also keen to share Vangelis' unique knowledge and practice with Adelaide's dance community through offering a Contemporary Dance Masterclass. He said "This workshop is an introduction to release-based contemporary, Flying Low and improvisation techniques, focusing on five fundamental movement patterns."
The work with Vangelis is just part of a busy 12-months for Matt who is currently taking part in a year-long Early Careers Residency, also awarded by the Australia Council for the Arts, working with Ausdance SA.
Matt and Vangelis will present the class on Sunday 31 August 2014 from 10am to 5pm at the Ausdance SA studio – Level 3, The Atrium, Station Arcade, 136 North Terrace, Adelaide. Bookings can be made by emailing marketing.sa@ausdance.org.au.