Easy Read – Auslan and Captioning
Look at our Auslan and Captioning page to find out more about sign language and captioning.
Auslan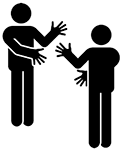 Deaf people us sign language to talk to each other.
Australian Sign Language is called Auslan.
A sign language interpreter uses Auslan and spoken English to help Deaf people and hearing people talk to each other.

This symbol it means that sign language at an event.
Open Captioning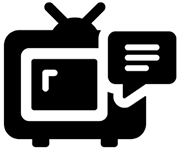 Spoken words are written on a screen so that Deaf and hard of hearing people can read what is being said.
Captions also tell Deaf people about sound effects and music.
Like a

[dog barking]
woof, woof…woof
A song playing:

Ooh, there ain't no other way, baby, I was born this way

This helps Deaf and hard of hearing people to experience the film or performance, the same as everybody.