Big Congrats media artist and film maker James Kurtze!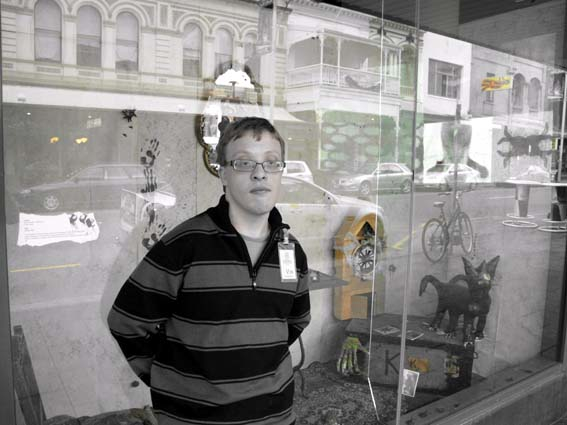 The bi-annual Oska Bright Film Festival in the UK, features the work of learning disabled artists both from the UK and from international entrants.
The festival ran between the 17-19 November, with the award ceremony taking place on the evening of 19 November, at which Jane Mote from Channel 8 Television presented James with the award for Best Special Effects for his film, Eye Movie.
The festival featured films from all around the world, including from Australia, Canada, Germany, France and all over the UK, in various categories such as 'Young people's Films', 'Films that Make us Laugh', and 'Films About People'. Each film entered into the festival had to be short and include learning disabled artists in the film-making process. The works were innovative, striking and quirky, and only six awards were given to the most extraordinary short films. The illuminated awards, made by artist Andy Kee, will be greatly treasured by those who won.
James represented Tutti and the SitDownShutup&Watch film and new media committee at the event, accompanied by his parents Felicity and Ross Kurtze and the Chair of the SitDownShutup&Watch committee, Lee Witczak. 'Eye Movie' was made with the support of the Richard Llewellyn Trust and supported by Tutti staff including Matt Goodluck, Pavlos Soteriou, Patricia Wozniak and Pat Rix.
Look out for a blog post from James on his return from the UK!