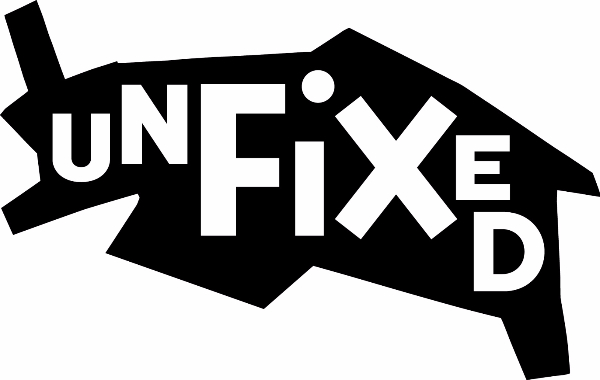 Indigo Eli, wrote as part of Unfixed Dialogues 1.0. The Dialogues were a professional development initiative that ran alongside the Unfixed Residency, providing a small group of Adelaide-based artists with interviewing skills and techniques under the guidance of arts journalist, critic and researcher, Jane Howard.
Indigo was invited to to join the project as a 'scribe' for the second stage of Unfixed – a professional development lab that took place at Bristol's Watershed in the UK in September 2016.
Enjoy Indigo's creative work was informed by the overall experience.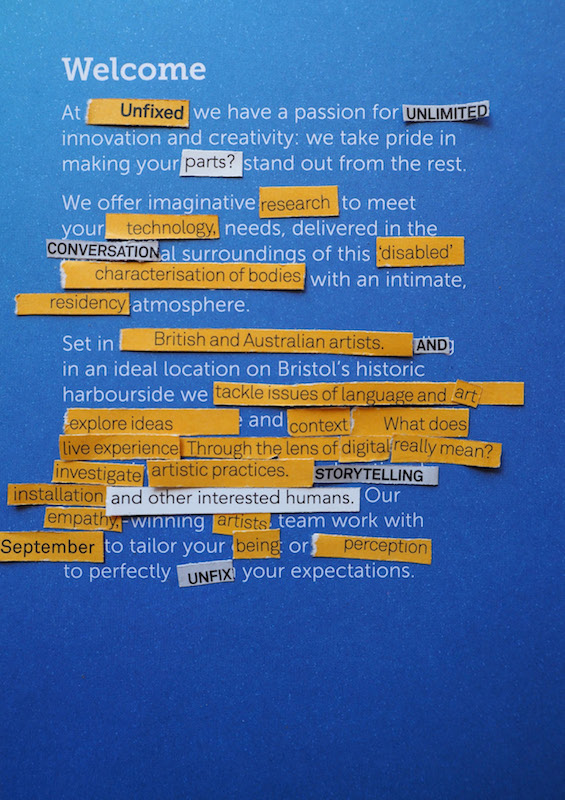 Image: text collage made from venue and event programs. It reads: Welcome. At Unfixed we have a passion for unlimited innovation and creativity: we take pride in making your parts? stand out from the rest. We offer imaginative research to meet your technology needs, delivered in the conversational surroundings of this 'disabled' characterisation of bodies with an intimate residency atmosphere. Set in British and Australian artists and in an ideal location on Bristol's historic harbourside, we tackle issues of language and art, explore ideas and concepts. What does live experience through the lens of digital really mean? Investigate artistic practices, storytelling, installation and other interested humans. Our empathy-winning artist team work with September to tailor your being or perception to perfectly unfix your expectations.
To view Indigo's complete work on Unfixed Dialogue 2.0 visit the Unfixed website.