If You Didn't Laugh You Would Cry – an interview with Gayle Kennedy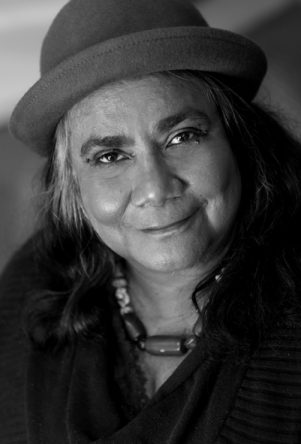 Gayle Kennedy is a proud member of the Wongaibon Clan of the Ngiayampaa speaking nation of South West NSW. She is an award-winning writer and has published work in newspapers, magazines, literature journals, and for radio. She was the Indigenous issues writer and researcher for Streetwize comics from 1995-1998. Her book of poetry, Koori Girl Goes Shoppin', was shortlisted for the David Unaipon Award in 2005 and her prose work, Me, Antman & Fleabag[1] was the winning entry in 2006. She wrote eleven books for the Yarning Strong series. The Series won the 2011 Australian Publishers Association award for Excellence in Educational publishing. Gayle is a disability advocate and has spoken widely in Australia and overseas on disability and the arts.
Gaele Sobott: Can you tell me about your background? Where you were born, where you grew up, a little bit about your family?
Gayle Kennedy: I was born in Ivanhoe NSW and we moved to Hay when I was seven. In between, from the age of two to five, I was in the children's hospital in Camperdown and then a rehab hospital in Wahroonga, then the Royal Far West in Manly recovering from Polio
My mother and father were both born in Condoblin but Dad's family is from around Cobar. Mum's family comes from the Euabalong area. Mum and Dad met when they were seventeen, working out at Wilcania. They're both eighty-three now and they've been married sixty years this year. They had six children, four girls and two boys. One of my brothers was killed in a car accident at the age of eighteen in 1976. Dad worked for what was then the Department of Main Roads in the Central Darling Shire. Mum worked for a long while cleaning in hotels but gave that up about thirty years ago. They're both retired now. I grew up with their stories. My parents' story is in the national library. Francis Rush did that. She did an interview with me too about my experiences of polio for the Social History of Polio Oral History Project.[2]
GS: What are some of the memories you have of your childhood?
GK: I have vague memories of being in an iron lung and learning to walk again. My memories are mainly of me going backwards and forwards between home and the Far West. I remember loving rehab. It was the only home I knew at that stage. I was surprised to find out that I wasn't from there when my parents came to pick me up. The first part of Me Antman & Fleabag where I write about the hospital is pretty much based on that time. The rest of it is fiction.
GS: Talk a little about your school experiences.
GK: When I was at the Far West I went to school there and it was okay. Because of the polio treatment I didn't start school until I was seven. I went to the Convent school in Hay and the nuns were very good teachers. It was a great place because there was absolute zero tolerance of bullying or racism. Then I did one year at Hay Public School, which was awful. There were a couple of kids that bullied me and the headmaster was very racist and treated me like an idiot. Fortunately the teachers realised I was bright and totally ignored his directions to put me in the lower classes. So I got to work at the level I was used to which was the advanced level.
Then I won a two-year scholarship to go to Queenwood here in Sydney, at Mosman, right on Balmoral Beach. Violet Medway was one of the principals then. They were into providing a high standard of education for girls. No domestic science or any of those subjects that used to be taught to women. I loved English and History. I was a bit of a daydreamer – never really concentrated. I was always off in another world when they tried to tell me stuff. I generally crammed for exams. I was at Queenwood from age seventeen to nineteen. I made great friends there.
GS: Describe your early adulthood. What were you doing in your late teens, early twenties? What were your interests?
GK: After I finished at Queenwood I went to the Commonwealth Employment Service in North Sydney to look for work. That's what you did in those days. They found me a position at the Australia Council as a clerk, Grade one. I went for an interview and got the job. I had a ball. It was fun meeting lots of fabulous people like Gillian Armstrong, Jane Campion, Gary Foley, Brian Syron, George Miller. They were just starting out in those days.
I was living in Cremorne, sharing a place with four guys. It was great fun. I'd go to the beach, go to the theatre. I liked Shakespeare and Ibsen. Reg Livermore was big then. I loved the Rocky Horror Show. There were a lot of new Australian plays happening. I'd go out to listen to bands. Live music was popular then in the pubs – blues, jazz and rock. We'd listen to bands like The Sports, Mondo Rock, the Divinyls. Cold Chisel was starting out. It's changed now. People moved to the inner city areas from the North Shore, places like that, and started complaining about noise. Gentrification changed the live music scene and also poker machines took over in the pubs as the main entertainment.
I did my share of partying too. Everybody danced, played records, got stoned, got laid. I had lots of relationships – a couple long term. One of them lasted for ten years and one for about four years. I ended up being bored. I didn't find them exciting or interesting anymore. They were good men but I never really took to being tangled up with anybody.
GS: Music seems to play a big part in your life.
GK: I've always been obsessed with music every since I was little. I like melodic music. If I like a piece of music, I want to know all about it. Who wrote it and why – the whole history. My tastes range over a lot of genres from Joni Mitchell to Hank Williams, Bob Dylan, Nancy Wilson, Sarah Vaughan. I listen to music all the time. It lifts my spirit and takes me to another place. If I've got a religion, it's music.
I can remember singing when I was very young, maybe two, the old country songs like Don't sell Daddy any more whiskey. Both my parents played and sang socially, at celebrations, weddings, funerals. Mum sings and plays guitar, piano accordion and piano. Dad sings, writes songs, plays guitar and performed around the traps.
GS: Tell me more about your work life and career.
GK: I stayed in the public service for years. I worked for a while with People with Disability and various community centres. From 1995 to 1998 I was a writer and researcher for StreetWize comics. I worked at the Aboriginal Medical Service and the Aboriginal Legal Service doing clerical work, research work, report writing. Then I started at the Attorney General's Department as a policy officer around Aboriginal justice. I got sick of that and left in 2008. I've been a writer ever since.
GS: Why did you get sick of working at the Attorney General's Department?
GK: Every time something good was happening the government would pull the pin. There was too much double speak, too many weasel words. I didn't like the attitude of a lot of the young people I was working with who'd grown up not really knowing about hardship or what was really going on with Aboriginal people in the justice system. There's no fire in their belly. They pay lip service to the struggle that went on but I don't think they really acknowledge that struggle or give a damn. I just wanted to be out.
GS: How did you start your writing career?
GK: I had a plan before I left the public service. I started entering writing competitions. Irena Dunn initiated the Inner City Life writing competition in the mid 1990s when she was director of the NSW Writers' Centre. I submitted a poem for that which was highly commended. The following year I won the competition with a prose piece called 'Life's Good When Ya Know How'. I liked the piece so much I expanded it into a book and entered it for the 2006 David Unaipon award. I won and everything grew from there.
I was commissioned to write a graphic novel as part of the OUP Yarning Strong series. One by one the other writers who had been commissioned dropped out so I ended up writing those stories. I published eleven books with the series. The illustrator was Ross Carnsew. I'd worked with him before on StreetWize.
GS: How do you find writing to a brief for children?
GK: It was challenging writing for a particular age group but I managed to make the stories interesting. I wrote the kind of books that kids want to read. You just think back to when you were a kid and put yourself in their shoes. I don't use big words when I write for adults. I like clean, simple, lean writing. So writing for children is not difficult for me. With Yarning Strong I was given a word, family, land, lore, culture. I wrote whatever I liked around the subject.
The books went into the schools. Apparently they are much loved and are still selling very well. They were the overall winner of the 2011 Australian Publishers Association Awards for Excellence in Educational Publishing. The series was also awarded Best Student Learning Literacy resource for 2011.
GS: Your work at StreetWize was specifically for low-level literacy readers, Indigenous and non-Indigenous. Do you think there is a need for more of this kind of writing?
GK: Well there is no real organisation doing that kind of publishing anymore. Yes there is a definite need for more. It was a great way of providing for kids and adults with low-level literacy. StreetWize publications were very mobile, very accessible. You'd find their comics in waiting rooms, classrooms, wherever. It relied on government grants and was closed because of lack of money. Howard got in to government. Need I say more?
GS: What was your experience with writers' festivals and the media directly after winning the David Unaipon award? How were you received as a writer with disability?
GK: I was only invited to three writers festivals – Sydney, Darwin and Brisbane. The festivals didn't want to have me because it meant paying the extra fare for my personal assistant. The organisers didn't check that accommodation and venues were wheelchair accessible which made it difficult. There were no radio interviews, no press. The other David Unaipon award winners got a lot more attention. I think that was to do with me being an older writer and one with disability. Writers' festivals like the young writers.
But Me, Antman & Fleabag is still selling after all these years and now it's starting to sell overseas. That's mainly due to social media and word of mouth.
I think writers today are expected to have the kind of face that looks good on magazine covers, to be celebrities, attractive in that way. They have to be highly visible, good with sound bites.
GS: You've written about people with disability as being 'the shadow people'. What do you mean by this?
GK: People with disability are often in the background, in the shadows. Everyone else gets up to talk for us, which I find very frustrating. We've got voices!
GS: How does being Aboriginal, Disabled and Woman play out in your life experience?
GK: I've never experienced any major problems with being a woman or being Aboriginal. I'm very proud of being Aboriginal. In terms of my writing, I don't like the way the literary scene ghettoises books. For example, if you walk into a bookstore you'll find my book lumped into the Indigenous section when it should be in the humour section. Indigenous writing should be categorised as part of the mainstream.
I've always done everything I wanted as a woman. Disability is the lowest on the pole in my experience. I think leadership is the key to changing that. Too often it is the hands of people who don't have disability. I never took much notice of it when I was young. It was later in my life when post-polio kicked in and I realised the physical barriers and obstacles, discrimination, people talking over you or to whoever is accompanying you rather than to you.
I think there is some change happening, more and more people are coming out but they don't get the opportunities to voice their concerns. They're not given the stage. People without disability write about people with disability and they're given the glory and the money. You see that at the writers' festivals and in the media.
GS: What other changes would you like to see happening in the Australian arts and cultural sector?
GK: I'd like to see a broader and more representative spectrum of writers and actors. I mean Australia is so white. You turn on the television and you're lucky to see a black face or an Asian face or Arab face. I don't know whose reality it's supposed to be. I'm so tired of watching those programs about young, hip and happening people in their shorts doing up a house. Until the public starts demanding more substantial entertainment it's not going to change. Why would production houses and TV executives spend a couple of million dollars creating a drama or a comedy when all they have to do is put some want-to-be in a house or in a kitchen. Cheap as chips.
We need to get in the door. If I got my foot in that door, I would change what goes on inside!
GS: Iva Polack from the University of Zagreb writes that Me, Antman & Fleabag ' . . . is an observational comedy and a dark satire of Aboriginal contemporaneity asking the reader to get into the circle of laughter by simultaneously laughing with, at and back.'[2] What role does humour play in your work?
GK: Humour is very much part of what I write. Even in the most serious sections, I like to have a laugh and to make people laugh out aloud. Humour is very important. Sharing laughter makes you feel good. That's what it's meant to do. The old saying goes, if you didn't laugh you'd cry. Laughter is up there with music in life.
GS: Do you think there is something distinctive about Aboriginal humour?
GK: Yes, Aboriginal humour is pretty much at the expense of other people, taking the piss out of yourself and people around you. It's often anecdotal and based on love and trust. You're comfortable enough to laugh with each other. It's clever. You've got to be very quick, nothing gets missed, and it's very much observational. It's a humour that engages deeply with what's going on around us.
GS: What are you working on at the moment?
GK: I'm doing a lot of talks on disability, on writing, whatever pays the bills. I would like to be writing my own book. I want to do a three-part story looking at my life and experiences with polio, intertwined with my parents' lives.
GS: How have you changed over the last forty years from the time you first lived in Sydney to present day?
GK: I took every advantage of being young, good looking, carefree. Now I don't need to be going out all the time. I'm happy with my own company. I wasn't for a long time. I'm glad I made it to sixty. I'm a lot more tolerant of people. I think a lot more deeply about things.
I don't miss living in Hay. I haven't been back there for a couple of years but I'll be there in October for my parents' sixtieth wedding anniversary. I do miss the people. Sydney is my home, my friends are here and I'm comfortable. I've lived here longer than I've lived anywhere else. I started out on the north side, Neutral Bay, Cremorne, Manly then moved to Balmain 1977. I've been here ever since apart form a two-year stint in Newtown. That was too hip for me.
I write now. I never would have back then. I was too busy going out having fun.
GS: In your keynote speech at the 2014 Scribbler Forum you said, you have not been a political person. It seems to me that you are a very political person determined to bring about change in a number of areas including for artists with disability.
GK: I guess I am but that's only emerged in the last few years because I realised you can't effect change by staying silent.
Notes:
[1] Me, Antman & Fleabag,Paperback, 130 pages. Published September 1st 2008 by University of Queensland Press
[2] Gayle Kennedy interviewed by Frances Rush in the Social history of Polio oral history project [sound recording] http://catalogue.nla.gov.au/Record/6184496
[3] Iva Polak, 'To Laugh, or Not to Laugh – That is the Lesson: Gayle Kennedy's Me, Antman & Fleabag' presented at Australasian Humour Studies Network Annual Conference, hosted by Flinders Institute of Research in the Humanities at the State Library South Australia, 4-6 February 2015
This interview was conducted in Balmain, Sydney, 12th June 2015 and republished with the kind permission from the writer Gaele Sobott. Writing,Culture, Social Justice and…
Photo Credit: Belinda Mason