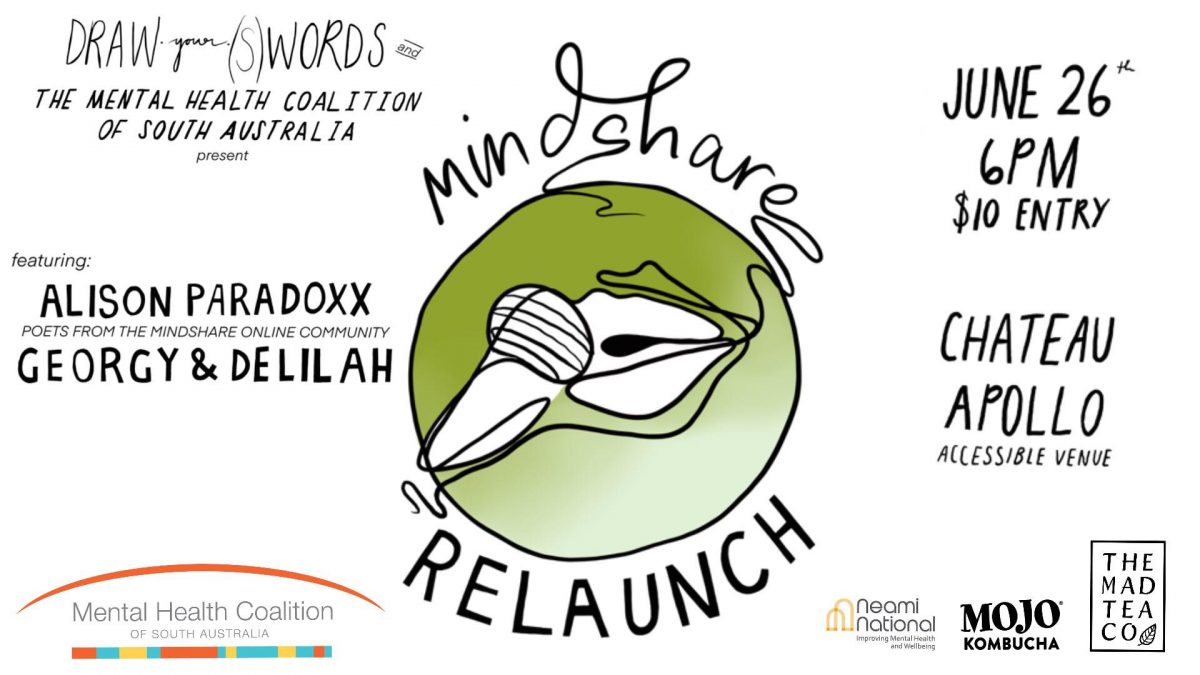 Where: Chateau Apollo, 74 Frome St, Adelaide, 5000
When:
Wednesday, 26 June 2019, From 6:00 PM
The Mental Health Coalition of SA (MHCSA) and Draw your S(Words) have teamed up for the launch of a new-look mindshare. mindshare is the MHCSA's online creative mental health community that celebrates mental health, its journey and recovery.
On June 26th, the Draw your S(Words) stage will provide a platform for those with lived experience of mental health challenges and illness—including families, carers and support workers—to share original poetry.
Open mic night for all!
This open mic event will include a special appearance from Alison Paradoxx, SA's 2016 Poetry Slam winner. Alison represented our state at the National Poetry Slam at The Sydney Opera House and has since performed as a featured artist throughout South Australia's literary, and spoken word communities. She has also been involved in a variety of collaborative projects including street poetry installations and youth mental health workshops. Alison's work focuses on the paradoxes of human nature, acceptance of disability in self, and the societal desire to 'fix' the broken self.
Those wanting to participate in the open mic are advised to get in early and sign up at the door to secure their slot.
Refresh yourself
Event sponsors include Mad Tea Collective, a not-for-profit movement that works to broaden our understanding of mental health, who will be supplying free hot tea on the night. We also have Mojo Beverages who are donating a range of their probiotic-brimming elixirs. Cheateau Apollo's bar will be open throughout the night and food can be purchased from Roxie's, who'll serve up wood-fired pizzas and other Mediterranean and Middle Eastern flavours.
Share your mind
mindshare was an online program developed as a partnership between the Mental Health Coalition of SA Inc. and the Media Resource Centre in 2011. Since then it has gone on to win awards and annually delivers the highly successful Creative Writing Awards featured each Mental Health Week at the Adelaide City Library and the Festival of Now.
mindshare aims to:
promote the creative work of people with lived experience of mental illness
increase awareness around mental health challenges through art and storytelling, and
provide a voice for people with lived experience of mental illness in a safe public sphere
mindshare online editor Anna Jeavons said, "Art is such a powerful medium. Not just for self-expression, but for mental health education and advocacy too. Poetry, songs, imagery—sometimes these are the best ways for our stories to reach the public sphere and actually make an impact. That's what this event, and the mindshare platform, is all about."
Accessibility information