Alison Paradoxx presents Floral Peroxide, Captioned: Adelaide Fringe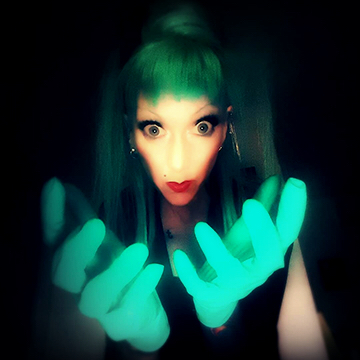 Where: Courtyard at The Libertine by Louis, 137 Magill Rd, Stepney
When:
Saturday, 23 February 2019, 8:30pm
Sunday, 24 February 2019, 8:30pm
Come and see Alison Bennett – The 2016 South Australian Poetry Slam Champion and friend of Access2Arts at the Adelaide Fringe.
Alison will be debuting her multi-media performance show, 'Alison Paradoxx presents Floral Peroxide.' Her work addresses issues of accessibility and diversity, and sparks debate on how society views physical and mental disability. Alison reclaims the term 'disability' to empower and recreates her  self-narrative.
Featuring sound design by electronic wizard, 5000AD. Both performances include open captions for all spoken word, and some audio description of the sound art. The venue is wheelchair accessible.
When: Saturday, 23 and Sunday 24 February 2019.
Where: Courtyard at The Libertine by Louis, 137 Magill Rd, Stepney
Time: 8.30pm
Duration: 50min
Age Suitability: PG
Content Warnings: Loud noises, Smoke Effects, Strobe Lighting. Themes: Disability, Chronic Illness, Eating Disorders, Trauma.
Alison has also created a free visual exhibition for those who may not be able to tolerate flashing lights/smoke machine effects. This exhibition will run in conjunction with the event from 15th Feb – 1st March, at The Libertine by Louis.
Tickets: Can be purchased at the Adelaide Fringe Box Office, at the door, at the Adelaide Fringe website here or by calling FringeTIX on 1300 621 255
Ticket Giveaway! Supported by Access2Arts: Alison is offering a number of free passes for those supported by Access2Arts. Please email tickets@access2arts.org.au to inquire and include any access requirements.
Check out Alison's Facebook, Instagram and website. The Adelaide Fringe's website can be viewed here.
Accessibility information