Opportunity: FELTspace 2020 Exhibition Callout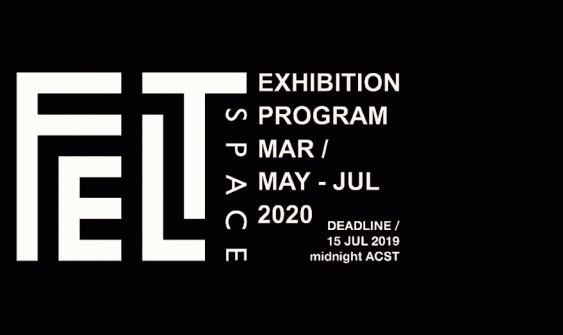 FELTspace is currently accepting applications for March, May, June and July 2020 exhibitions.
FELTspace invites artists / practitioners / curators / collectives to submit proposals to exhibit during this period.
Solo or group exhibitions are welcomed which focus on contemporary art practice and encourages submissions that are concerned with experimental engagement and the subversion of standard art forms.
Alongside the current Front Gallery and Back Gallery, FELTspace also invites proposals for our dedicated video space, FELTdark, a 2.1m wide projection screen filling the front window. FELTdark is in operation Wednesday night through to Saturday night from dusk till late.
Download the Application Process and Gallery Info Sheet here
Please ensure you have supplied the following according to the specifications outlined in the Application Process and Gallery Info Sheet. Email the text contents in a single .PDF document with the subject "EXHIBITION PROPOSAL MAR / MAY—JUL 2020" to feltspace@gmail.com
1. Cover sheet
2. Exhibition rationale (max 300 words)
3. Installation description (max 300 words)
4. Support material (digital images and/or video)
5. List of support material
6. One page artist CV
Submissions close 15 JULY 2019, 12AM midnight (Australian Central Standard Time).
Submitting a proposal is no guarantee of acceptance. Please note FELTspace does not exhibit work by current undergraduate students. We will accept proposals from undergraduate students for exhibitions that will commence after their studies are complete.